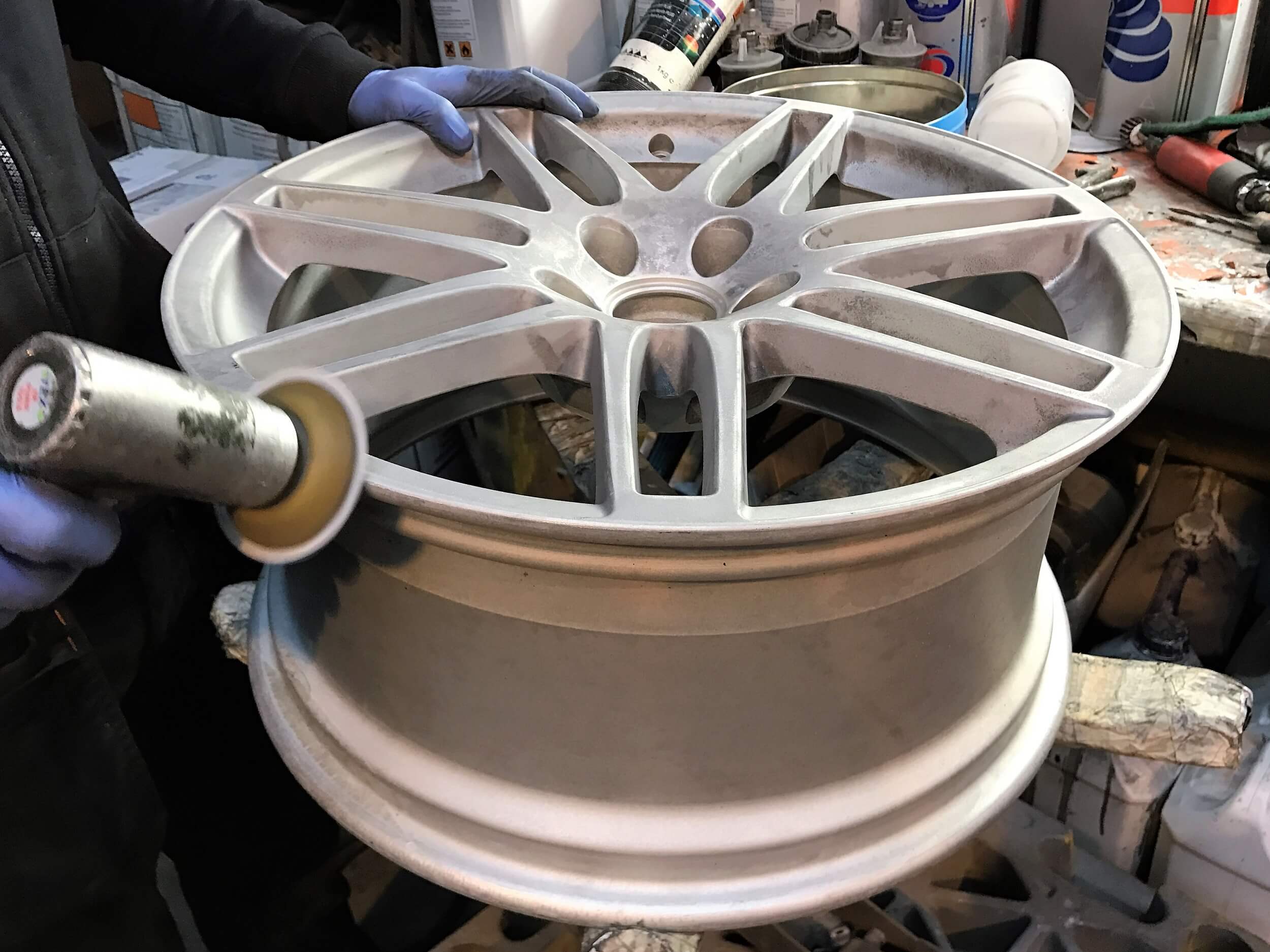 We all dread that feeling when you know you have just kerbed your alloy. The damage stands out like a sore thumb and you want it repaired straight away.
KS SMART REPAIRS (NW) provide an alloy wheel repair service to take the wheel back to its original glory. But how do we do it…?
1. We begin by deflating the tyre and pushing the tyre away from the wheel rim using a bead breaker, before cleaning the wheel with a strong, quick-drying degreaser to remove any traces of break dust or dirt.
2. Next, we sand the damaged areas of the wheel to remove the more minor scratches. The worse scuffs may need an alloy filler applying, which is then allowed to set, before the area is sanded again to bring the filler down to the level of the rest of the wheel and ensure it is the correct shape.
3. An abrasive pad, similar to a green washing up pad, is then used to put fine scratches into the rest of the wheel, in order to provide a key for the paint.
4. Next, we use primer to cover any areas of exposed metal or filler, before we colour match the alloy wheel to the correct paint colour. Any sanded or primed areas are then sprayed with paint to cover, before the paint is blended into the rest of the wheel.
5. The wheel is finally lacquered, to the desired gloss/matte finish, before being cured under an infrared lamp and re-inflated.
Bodyshop Timperley SMART repair Timperley Car body repair Timperley Alloy wheel repair Timperley Auto body repair Timperley SMART body repair Timperley SMART repairs Timperley Car repair Timperley 24 hour car repair Timperley Scratch repair Timperley Scuff repair Timperley Bumper repair Timperley Dent repair Timperley
Bodyshop Manchester SMART repair Manchester Car body repair Manchester Alloy wheel repair Manchester Auto body repair Manchester SMART body repair Manchester SMART repairs Manchester Car repair Manchester 24 hour car repair Manchester Scratch repair Manchester Scuff repair Manchester Bumper repair Manchester Dent repair Manchester
Bodyshop Eccles SMART repair Eccles Car body repair Eccles Alloy wheel repair Eccles Auto body repair Eccles SMART body repair Eccles SMART repairs Eccles Car repair Eccles 24 hour car repair Eccles Scratch repair Eccles Scuff repair Eccles Bumper repair Eccles Dent repair Eccles
Bodyshop Irlam SMART repair Irlam Car body repair Irlam Alloy wheel repair Irlam Auto body repair Irlam SMART body repair Irlam SMART repairs Irlam Car repair Irlam 24 hour car repair Irlam Scratch repair Irlam Scuff repair Irlam Bumper repair Irlam Dent repair Irlam
Bodyshop Altrincham SMART repair Altrincham Car body repair Altrincham Alloy wheel repair Altrincham Auto body repair Altrincham SMART body repair Altrincham SMART repairs Altrincham Car repair Altrincham 24 hour car repair Altrincham Scratch repair Altrincham Scuff repair Altrincham Bumper repair Altrincham Dent repair Altrincham
Bodyshop Cheshire SMART repair Cheshire Car body repair Cheshire Alloy wheel repair Cheshire Auto body repair Cheshire SMART body repair Cheshire SMART repairs Cheshire Car repair Cheshire 24 hour car repair Cheshire Scratch repair Cheshire Scuff repair Cheshire Bumper repair Cheshire Dent repair Cheshire
Bodyshop Salford SMART repair Salford Car body repair Salford Alloy wheel repair Salford Auto body repair Salford SMART body repair Salford SMART repairs Salford Car repair Salford 24 hour car repair Salford Scratch repair Salford Scuff repair Salford Bumper repair Salford Dent repair Salford
Bodyshop Stockport SMART repair Stockport Car body repair Stockport Alloy wheel repair Stockport Auto body repair Stockport SMART body repair Stockport SMART repairs Stockport Car repair Stockport 24 hour car repair Stockport Scratch repair Stockport Scuff repair Stockport Bumper repair Stockport Dent repair Stockport
Bodyshop Sale SMART repair Sale Car body repair Sale Alloy wheel repair Sale Auto body repair Sale SMART body repair Sale SMART repairs Sale Car repair Sale 24 hour car repair Sale Scratch repair Sale Scuff repair Sale Bumper repair Sale Dent repair Sale
Bodyshop Carrington SMART repair Carrington Car body repair Carrington Alloy wheel repair Carrington Auto body repair Carrington SMART body repair Carrington SMART repairs Carrington Car repair Carrington 24 hour car repair Carrington Scratch repair Carrington Scuff repair Carrington Bumper repair Carrington Dent repair Carrington
Bodyshop Cadishead SMART repair Cadishead Car body repair Cadishead Alloy wheel repair Cadishead Auto body repair Cadishead SMART body repair Cadishead SMART repairs Cadishead Car repair Cadishead 24 hour car repair Cadishead Scratch repair Cadishead Scuff repair Cadishead Bumper repair Cadishead Dent repair Cadishead
Bodyshop Urmston SMART repair Urmston Car body repair Urmston Alloy wheel repair Urmston Auto body repair Urmston SMART body repair Urmston SMART repairs Urmston Car repair Urmston 24 hour car repair Urmston Scratch repair Urmston Scuff repair Urmston Bumper repair Urmston Dent repair Urmston
Bodyshop Flixton SMART repair Flixton Car body repair Flixton Alloy wheel repair Flixton Auto body repair Flixton SMART body repair Flixton SMART repairs Flixton Car repair Flixton 24 hour car repair Flixton Scratch repair Flixton Scuff repair Flixton Bumper repair Flixton Dent repair Flixton
Bodyshop Hale SMART repair Hale Car body repair Hale Alloy wheel repair Hale Auto body repair Hale SMART body repair Hale SMART repairs Hale Car repair Hale 24 hour car repair Hale Scratch repair Hale Scuff repair Hale Bumper repair Hale Dent repair Hale
Bodyshop Bowdon SMART repair Bowdon Car body repair Bowdon Alloy wheel repair Bowdon Auto body repair Bowdon SMART body repair Bowdon SMART repairs Bowdon Car repair Bowdon 24 hour car repair Bowdon Scratch repair Bowdon Scuff repair Bowdon Bumper repair Bowdon Dent repair Bowdon
Bodyshop Dunham SMART repair Dunham Car body repair Dunham Alloy wheel repair Dunham Auto body repair Dunham SMART body repair Dunham SMART repairs Dunham Car repair Dunham 24 hour car repair Dunham Scratch repair Dunham Scuff repair Dunham Bumper repair Dunham Dent repair Dunham
Bodyshop Lymm SMART repair Lymm Car body repair Lymm Alloy wheel repair Lymm Auto body repair Lymm SMART body repair Lymm SMART repairs Lymm Car repair Lymm 24 hour car repair Lymm Scratch repair Lymm Scuff repair Lymm Bumper repair Lymm Dent repair Lymm
Bodyshop Wythenshawe SMART repair Wythenshawe Car body repair Wythenshawe Alloy wheel repair Wythenshawe Auto body repair Wythenshawe SMART body repair Wythenshawe SMART repairs Wythenshawe Car repair Wythenshawe 24 hour car repair Wythenshawe Scratch repair Wythenshawe Scuff repair Wythenshawe Bumper repair Wythenshawe Dent repair Wythenshawe
Bodyshop Cheadle SMART repair Cheadle Car body repair Cheadle Alloy wheel repair Cheadle Auto body repair Cheadle SMART body repair Cheadle SMART repairs Cheadle Car repair Cheadle 24 hour car repair Cheadle Scratch repair Cheadle Scuff repair Cheadle Bumper repair Cheadle Dent repair Cheadle
Bodyshop Stretford SMART repair Stretford Car body repair Stretford Alloy wheel repair Stretford Auto body repair Stretford SMART body repair Stretford SMART repairs Stretford Car repair Stretford 24 hour car repair Stretford Scratch repair Stretford Scuff repair Stretford Bumper repair Stretford Dent repair Stretford
Bodyshop Swinton SMART repair Swinton Car body repair Swinton Alloy wheel repair Swinton Auto body repair Swinton SMART body repair Swinton SMART repairs Swinton Car repair Swinton 24 hour car repair Swinton Scratch repair Swinton Scuff repair Swinton Bumper repair Swinton Dent repair Swinton
Bodyshop Little Hulton SMART repair Little Hulton Car body repair Little Hulton Alloy wheel repair Little Hulton Auto body repair Little Hulton SMART body repair Little Hulton SMART repairs Little Hulton Car repair Little Hulton 24 hour car repair Little Hulton Scratch repair Little Hulton Scuff repair Little Hulton Bumper repair Little Hulton Dent repair Little Hulton
Bodyshop Wilmslow SMART repair Wilmslow Car body repair Wilmslow Alloy wheel repair Wilmslow Auto body repair Wilmslow SMART body repair Wilmslow SMART repairs Wilmslow Car repair Wilmslow 24 hour car repair Wilmslow Scratch repair Wilmslow Scuff repair Wilmslow Bumper repair Wilmslow Dent repair Wilmslow
Bodyshop Mobberley SMART repair Mobberley Car body repair Mobberley Alloy wheel repair Mobberley Auto body repair Mobberley SMART body repair Mobberley SMART repairs Mobberley Car repair Mobberley 24 hour car repair Mobberley Scratch repair Mobberley Scuff repair Mobberley Bumper repair Mobberley Dent repair Mobberley
Bodyshop Knutsford SMART repair Knutsford Car body repair Knutsford Alloy wheel repair Knutsford Auto body repair Knutsford SMART body repair Knutsford SMART repairs Knutsford Car repair Knutsford 24 hour car repair Knutsford Scratch repair Knutsford Scuff repair Knutsford Bumper repair Knutsford Dent repair Knutsford
Bodyshop Alderley edge SMART repair Alderley edge Car body repair Alderley edge Alloy wheel repair Alderley edge Auto body repair Alderley edge SMART body repair Alderley edge SMART repairs Alderley edge Car repair Alderley edge 24 hour car repair Alderley edge Scratch repair Alderley edge Scuff repair Alderley edge Bumper repair Alderley edge Dent repair Alderley edge
Bodyshop Northwich SMART repair Northwich Car body repair Northwich Alloy wheel repair Northwich Auto body repair Northwich SMART body repair Northwich SMART repairs Northwich Car repair Northwich 24 hour car repair Northwich Scratch repair Northwich Scuff repair Northwich Bumper repair Northwich Dent repair Northwich
Bodyshop Handforth SMART repair Handforth Car body repair Handforth Alloy wheel repair Handforth Auto body repair Handforth SMART body repair Handforth SMART repairs Handforth Car repair Handforth 24 hour car repair Handforth Scratch repair Handforth Scuff repair Handforth Bumper repair Handforth Dent repair Handforth
Bodyshop Bredbury SMART repair Bredbury Car body repair Bredbury Alloy wheel repair Bredbury Auto body repair Bredbury SMART body repair Bredbury SMART repairs Bredbury Car repair Bredbury 24 hour car repair Bredbury Scratch repair Bredbury Scuff repair Bredbury Bumper repair Bredbury Dent repair Bredbury
Bodyshop Cheadle Hulme SMART repair Cheadle Hulme Car body repair Cheadle Hulme Alloy wheel repair Cheadle Hulme Auto body repair Cheadle Hulme SMART body repair Cheadle Hulme SMART repairs Cheadle Hulme Car repair Cheadle Hulme 24 hour car repair Cheadle Hulme Scratch repair Cheadle Hulme Scuff repair Cheadle Hulme Bumper repair Cheadle Hulme Dent repair Cheadle Hulme
Bodyshop Hazel Grove SMART repair Hazel Grove Car body repair Hazel Grove Alloy wheel repair Hazel Grove Auto body repair Hazel Grove SMART body repair Hazel Grove SMART repairs Hazel Grove Car repair Hazel Grove 24 hour car repair Hazel Grove Scratch repair Hazel Grove Scuff repair Hazel Grove Bumper repair Hazel Grove Dent repair Hazel Grove
Bodyshop Ashton-under-lyne SMART repair Ashton-under-lyne Car body repair Ashton-under-lyne Alloy wheel repair Ashton-under-lyne Auto body repair Ashton-under-lyne SMART body repair Ashton-under-lyne SMART repairs Ashton-under-lyne Car repair Ashton-under-lyne 24 hour car repair Ashton-under-lyne Scratch repair Ashton-under-lyne Scuff repair Ashton-under-lyne Bumper repair Ashton-under-lyne Dent repair Ashton-under-lyne
Bodyshop Prestwich SMART repair Prestwich Car body repair Prestwich Alloy wheel repair Prestwich Auto body repair Prestwich SMART body repair Prestwich SMART repairs Prestwich Car repair Prestwich 24 hour car repair Prestwich Scratch repair Prestwich Scuff repair Prestwich Bumper repair Prestwich Dent repair Prestwich
Bodyshop Whitefield SMART repair Whitefield Car body repair Whitefield Alloy wheel repair Whitefield Auto body repair Whitefield SMART body repair Whitefield SMART repairs Whitefield Car repair Whitefield 24 hour car repair Whitefield Scratch repair Whitefield Scuff repair Whitefield Bumper repair Whitefield Dent repair Whitefield
Bodyshop Chadderton SMART repair Chadderton Car body repair Chadderton Alloy wheel repair Chadderton Auto body repair Chadderton SMART body repair Chadderton SMART repairs Chadderton Car repair Chadderton 24 hour car repair Chadderton Scratch repair Chadderton Scuff repair Chadderton Bumper repair Chadderton Dent repair Chadderton
Bodyshop Bolton SMART repair Bolton Car body repair Bolton Alloy wheel repair Bolton Auto body repair Bolton SMART body repair Bolton SMART repairs Bolton Car repair Bolton 24 hour car repair Bolton Scratch repair Bolton Scuff repair Bolton Bumper repair Bolton Dent repair Bolton
Bodyshop Rochdale SMART repair Rochdale Car body repair Rochdale Alloy wheel repair Rochdale Auto body repair Rochdale SMART body repair Rochdale SMART repairs Rochdale Car repair Rochdale 24 hour car repair Rochdale Scratch repair Rochdale Scuff repair Rochdale Bumper repair Rochdale Dent repair Rochdale
Bodyshop Warrington SMART repair Warrington Car body repair Warrington Alloy wheel repair Warrington Auto body repair Warrington SMART body repair Warrington SMART repairs Warrington Car repair Warrington 24 hour car repair Warrington Scratch repair Warrington Scuff repair Warrington Bumper repair Warrington Dent repair Warrington
Bodyshop Farnworth SMART repair Farnworth Car body repair Farnworth Alloy wheel repair Farnworth Auto body repair Farnworth SMART body repair Farnworth SMART repairs Farnworth Car repair Farnworth 24 hour car repair Farnworth Scratch repair Farnworth Scuff repair Farnworth Bumper repair Farnworth Dent repair Farnworth